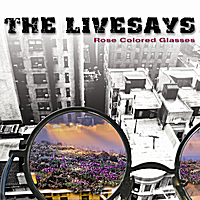 Album review excerpt by Lee Zimmerman - Broward/Palm Beach New Times
The Livesays
"Rose Colored Glasses"
Livesay's pop influences are all too obvious. Taking its cue from the Beatles, Sheryl Crow, John Mayer, Maroon 5, and Train, the album reflects a classic-rock sensibility that draws on radio-ready hooks, well-brewed arrangements, and songs that quickly sink into the consciousness even on first hearing. The title track strikes an immediate boisterous impression, while the sentimental ballad "I Waited Too Long" tugs at the heartstrings. What's more, the band's remake of the Byrds' "My Back Pages" is a close contender for what may well be the best cover of this classic ever recorded.
"I am a classic-rock/pop guy," Livesay says. And with the aptly titled Rose Colored Glasses, he proves adept at mining his muse.
Lee Zimmerman - Broward/palm Beach New Times
---
By Leslie Gray Streeter, Palm Beach Post Staff Writer
Tuesday, April 8, 2003
Excerpt from a review of "The Reverend Al Green" Concert at The Broward Center For The Performing Arts. Friday, April 4, 2003
"The crowd was also supportive of Miami-based opening band The Livesays, although the group's blues-tinged rock seemed a curious fit for an Al Green. Passionate lead singer Billy Livesay's voice and style are a mix of several heartland rockers - call him John Seger Mellencamp. But their set of originals, including A Little Bit of Hurt and This Side of Town, had several feet tapping".
---
Nashville Music Guide - August 2002
Reviewed by Brad Fischer
"LITTLE BIT OF HURT" Artist: The Livesays
If you're into pop/rock, you'll want to add LITTLE BIT OF HURT to your CD collection. All twelve tracks were co-written by the lead singer, Billy Livesay, who also produced the album. Livesay's vocals will remind you of Bruce Springsteen with an edge that gets under your skin. The arrangements on all the cuts make judicious use of lead guitar, harmonica and saxaphones. My favorite tune was "Listening To The Radio" co-written with David Graham which takes you on a ride through your first teenage romance. Released on the independent Refuge Records label, you can obtain your copy on the web at www.billylivesay.com. Rating: 6 Stars ******
---
Street Magazine September 15-21, 2000 Underbelly
by Rene Alvarez
HEAVY MESSAGE - Singer-songwriter Billy Livesay is a man with a message. And in a land of sugar-pop-co-coa-puff cereal songwriting and posing, it might be a good to at least try to write something relevant and issue-oriented.
Inspired by the tragic death of a Delray schoolteacher at the hands of a gun-toting student, Livesay (whose music is a kind of cross between early Del Amitri and Rod Stewart during the ]atter's "Maggie May" period) has written "Stranger in My House," a song about the emotional tightwire of a physically abused child. Then, after reading about violence in Florida schools, he wrote about his feelings on the availability of guns in "Terror in the Neighborhood."

"When I was 16 I found my stepfather's gun, hidden in a closet," Livesay recalls. "Anything could have happened at that moment, I could have accidentally hurt myself or someone else." Livesay, who has a son of his own, hopes that the message of a less violent culture will touch his fans, and their kids as well.

Get a taste of Livesay live with his band the Livesays at Power Studios, 3701 NE Second Ave., 305-576-1336, on Saturday, Sept. 16, at 9:30 p.m. sharp. You can get a preview of "Stranger in My House" by clicking here. You can also find out more about Livesay at http://www.billylivesay.com.

Jam Magazine
Reviewed by Deborah Toby
Picture cruising a lonely, dark highway late in the evening, jamming to kicking guitars, great vocals, and ripping saxophone, and thinking "can it get any better than this?" The only bump in the road appears when the blue lights start flashing.Billy Livesay stands out as a great rock/blues vocalist and guitarist, while Stan Waldman on saxophone compliments the song arrangements. Mars Cowling on bass and Eddie Zyne on drums keep each mix nice and solid.Some tunes are sprinkled with additional backup vocals and instruments such as conga drums and harmonica. Really good song arrangement and production skills are evident throughout.Although The Livesays' CD is entitled Little Bit of Hurt, there is plenty of feel-good rhythm and mellow rocking that does not hurt a bit. Recorded, mixed and mastered in Fort Lauderdale and Miami, Florida, these guys are truly a stand-out in the wonderful crowd of Indie label groups. Rating: 4 Stars ****