Memorable pop-rock tunes, soulful vocals, wailing slide guitar, and riveting live performances are Billy Livesay's signature. A respected member of the music community, Billy has forged a national career and his songs have appeared:
MTV
Saving Grace
My Name is Earl
One Tree Hill
King of the Hill
Robin's Hoods
Doogie Howser
Major motion pictures - Straw Dogs, Wrestle Maniac, Promised Land
HBO movie - Back To Evens
NBC movies of the week - Mathew Sheppard Story, Death of A Cheerleader and Beauty's Revenge
Publishing deals with Kid Gloves Music and Transition Music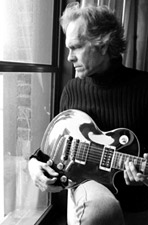 Billy's tough childhood in Hialeah, Florida has been the inspiration for his work on projects like "Love Your Neighbor," a Miami grass roots campaign for which Billy wrote the theme song, and for his workshops at the University of Miami, that demonstrate the powerful therapy that music provides.
Billy's song, "Stranger in My House," reflects the betrayal of parental violence, the accompanying loss of one's spirit and the regaining of one's soul, through music.